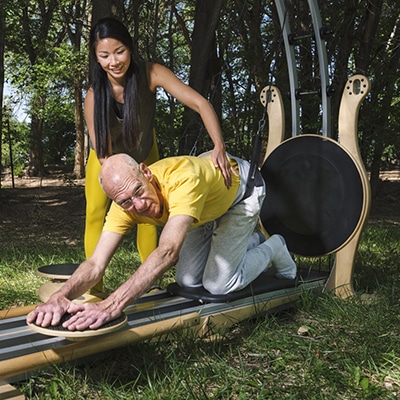 Founded in March of 2021, The Movement Temple is a Pilates and Gyrotonic studio based in the North Valley of Albuquerque, NM. With the focus of "movement as medicine," Amanda aims to spread the joy of proficiency of movement by equipping clients with the knowledge of greater kinesthetic awareness in every step of their daily routine. From injury rehabilitation to high-intensity training, sessions are tailored to assist clients in obtaining a stronger, leaner, and pain-free body for life.
WESST's courses like the GoDaddy Website Builder helped Amanda create her own website. The relationship with WESST has opened her eyes to many of the amazing small business resources in place within the state of New Mexico to assist minority and women-owned businesses to develop and thrive. By introducing her to the Procurement Technical Assistance Center (PTAC), she now realizes the significant number of opportunities for small businesses government contracts and is now prepared to begin bidding on these contracts. WESST also
provides ongoing business consulting sessions and guidance to help her achieve her goals.
"Brad Crowson with WESST has been an essential part of The Movement Temple's existence from the beginning. He has assisted me with forming an LLC, applying for a business license, developing marketing strategies, paying my taxes, and even working towards becoming a non-profit to further my work with underserved communities. WESST has always been there to provide tremendous support throughout my journey."
Amanda Tay
Albuquerque, NM