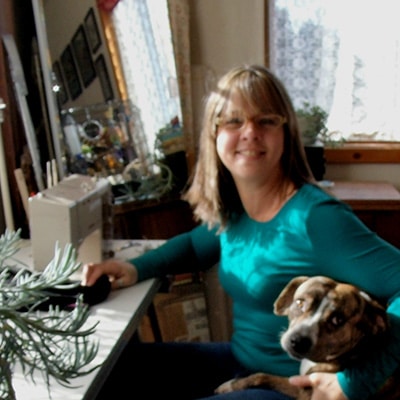 The Santa Fe Sewing Studio
Susan has been creating fleece hats and accessories for many years.  Originally from the San Francisco Bay Area, she and her family now call Santa Fe home.
Susan was four years old when she began to sew and at the age of 19, received her AAS degree in Fashion Design from FIT (Fashion Institute of Technology, State University of New York). She went on to work on Seventh Ave in the garment district for several years as a designer and pattern maker. 
Susan started with fleece hats and accessories for children and adults. She has gradually grown to scarfs and Fleece Boot Warmers, vests and much more! All her work is 100% anti-pill polyester fleece which is soft, warm, fashionable and machine washable. Her work is bright Southwestern and animal prints. Susan is now working on lounge wear and we look forward to the new items!  Susan's online business has tripled between 2015 and 2016 receiving hundreds of orders from all over the world for her fleece hats and accessories, but her wholesale accounts in Santa Fe continue to be a big part of her business.
We first met Susan in 1999 to discuss how WESST could help her with her business.  She participated in one of the first 16 week Perfect Pitch/Marketlink workshop series.  WESST Marketlink was the first program Susan felt was focused on people like herself – someone with an idea or several ideas and not knowing how to get started. Giving structure and information was very helpful. It was similar to having a boss/supervisor who helped solidify a mission statement, pricing, and true/ honest encouragement.  In addition to Marketlink she attended several workshops to include Website Development, Social Media and our first Etsy Workshop in 2015.
Having a business that allows Susan to be self-sufficient plus creating good locally owned products and selling in local shops is a win/win for all. Susan also shares her knowledge of WESST with others and forms great networking opportunities.
The Santa Fe Sewing Studio
"WESST has benefited me enormously with marketing and computer skills to get my business online."
Susan E. Young-Tweet
The Santa Fe Sewing Studio