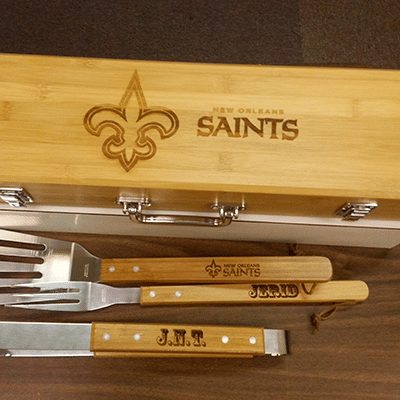 Third Axis Engraving, LLC
Third Axis Engraving, LLC. is the only business in the Four Corners area that combines two types of laser engraving with two different laser machines that provide customers with superior quality, personalized products. Third Axis Engraving, LLC is proud to offer a wide range of options for personalizing glass, crystal, acrylic, aluminum, and laser engraving for awards and plaques, birthday gifts and even memorabilia.
Prior to COVID-19, Bonnie had a thriving Main Street business and a mobile kiosk booth at Animas Valley Mall, where she had four employees to help her run her business successfully for many years. In March of 2020, Bonnie was forced to close her storefront and her mobile kiosk and layoff off her employees due to the COVID-19 shut down. Bonnie pivoted her storefront business to running her business from home, where she is still operating her business today. Bonnie soon became strapped for cash as sales plummeted. Bonnie turned to WESST to help secure a loan, and with the help of the WESST loan department, she was able to receive a $10,000 RISE loan from WESST. Bonnie also needed help obtaining an SBA PPP loan and reached out to the WESST Farmington Women's Business Center for guidance. Bonnie received SBA COVID funding in both the first and second rounds of PPP, totaling $27,000. Bonnie also received assistance in applying for and receiving a State of NM small business relief grant for $5,000. The financial support that Bonnie received from WESST, SBA and the State of NM prevented her from financial ruin. Bonnie is slowly building back up her cash flow, business is picking up, and she hopes to reopen her doors again in Farmington Downtown Mainstreet.
Third Axis Engraving, LLC
"I was looking at bankruptcy, but with the money I received during the pandemic, and hopefully some other types of future financial assistance for small businesses, I can keep going. I don't know what the future holds, but I know for now I'll be okay. Thank you so much!"
Bonnie Cummings
Farmington, NM