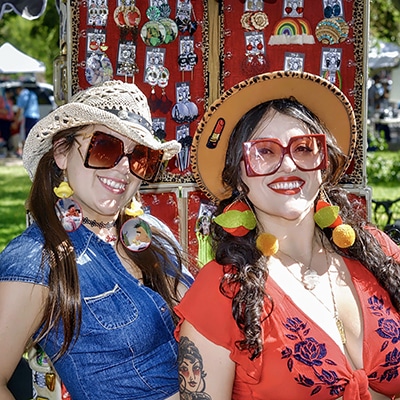 Two Stoned Betties makes and sells counterculture art and jewelry at the Downtown Grower's Market, concerts, and the ABQ ART Walk. Two Stoned Betties is comprised of the creativity and work of Sara Romãn and Kayla Mansfield. The two are life long friends bonded by their love for each other as well as their undying need to create bold, colorful artwork and accessories.
Sara started her WESST journey with our "Ignite the Fuse" event. From there she began working closely with a WESST consultant on her bookkeeping, gaining a huge appreciation for managing her finances closely. She then worked with another WESST business consultant who helped her work through some business issues and identifed a need for capital. The WESST loan department coached and consulted Sara through the application process, spending a significant amount of time on the cash flow projection.
With the HOPE Loan funds Sara will be purchasing a Glow Forge Laser Printer and Engraving machine combo that will substantially reduce costs, waste, and most importantly production time. The Glow Forge machine will also allow Sara and Kayla to create more unique pieces.
"Throughout the pandemic WESST has really been hand in hand with me pivoting my business."
Sara Romãn
Albuquerque, NM