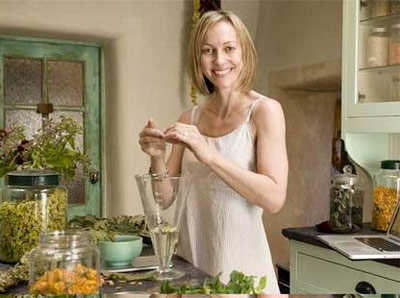 Krysia Boinis has much to be thankful about these days. The last couple of years have been of whirlwind of success for the young Taos, New Mexico-based entrepreneur and long-time WESST client. The private label natural lip balm manufacturing company that she founded with her husband, Greg Martin, gave her the hands-on product formulation experience and business acumen to help her launch an innovative organic cosmetics company called Vapour Organic Beauty in 2009.
In just a little over two years, the Vapour Organic Beauty brand has evolved from its original line of 32 products to a lineup of more than 110 products including everything from natural long-wearing mineral pigmented lipsticks and glide-on stick foundations and blushes to organic eyeliners and shadows and a recently launched line of formaldehyde-free nail polish. All product formulation and manufacturing is done in Vapour's USDA-certified organic cosmetics lab in Taos. The line is now available in 50 retail outlets throughout the U.S. and a select group of online venues including their own website. As awareness and sales of the brand increases, so does the praise.
The Vapour brand has received accolades by editors from some of the country's top beauty, fashion and health magazines – winning 13 awards as of this writing – including an ALLURE Best of Beauty award for its Aura Multi-Use Blush and, most recently, its Elixir Plumping Lip Gloss was voted the #1 Lip Gloss by People Style Watch. Prevention magazine gave Vapour's Atmosphere Soft Foundation top honors as the Best Natural Age-Defying Foundation and its Stratus Soft Focus Skin Perfector primer and Atmosphere Luminous Foundation have both been awarded 2011 Gorgeously Green Beauty Awards.
Other popular women's magazines that have featured Vapour products include WWD (Women's Wear Daily), Marie Claire, Real Simple, Elle, Redbook, In Style, and Lucky, to name a few. And it's been promoted on the Today Show's popular Shop NBC segment.
The well-deserved buzz about Vapour Organic Beauty products continues to pay off for the young company. Last year, up-and-coming Haitian designer Hassan Pierre approached Vapour about doing the makeup for his 2011 New York Fall Fashion Week runway show. "He's a sustainable designer, so the fit was perfect," says Boinis. To maximize the PR potential of this incredible opportunity, they offered to create a solid scent for his show. The result was a scent they named Vapour X WISB* N°1 that's formulated with vertivert, an essential oil extracted from vertiver, a grass farmed in Haiti for both its sustainability virtues (its used in land management, water treatment, pollution mitigation) and for the unique oil it yields that is popular in perfumery for both men and women.
"It smells different on everyone because the essential oils in the plant react with your unique body chemistry resulting in a singularly unique scent for everyone who wears it," explains Boinis. A portion of the proceeds for the product are donated to the Red Cross to help with the continuing relief efforts in Haiti. The scent has been so popular that the company plans to launch other products with the scent. They're also currently working on formulating a second solid scent with a more feminine floral scent.
Clearly, people are responding to the innovation and authenticity of the Vapour Organic Beauty line. In 2011, Vapour experienced a 49% increase in revenues over 2010 sales. The brand is loved by a growing legion of celebrities, makeup artists, stylists, and of course, its loyal customers. In fact, 95% of Vapour customers recommend Vapour to their friends.
Boinis attributes many things to the company's meteoric rise. "Our unique vision would not be complete without Vapour's others founders: Kristine Keheley, my longtime product formulator and Eric Sakas, veteran cosmetics formulator and makeup artist to the stars."
Sakas co-founded Kevyn Aucoin Beauty and was the former Director of Color for Philosophy cosmetics. He's one of the top industry experts on color and product formulations and when he got his hands on a Vapour foundation prototype, he knew it was an exceptional product that he wanted to help develop and promote. He was shocked when he learned that the product not only offered exceptional performance, but that it was formulated with food-grade, certified organic botanicals and pure, natural mineral pigments and vitamins. He knew then and there that he had stumbled onto something special and used his connections in the industry to introduce Vapour products to the world.
Vapour's tagline is "Good for you, good for the environment" and Boinis' commitment to creating cosmetics that are safe for women and the planet is personal and passionate. She's a two-time breast cancer survivor. "Being diagnosed with breast cancer in my 30s was a shocking, life-changing experience for me. The disease reinforced my belief in the importance of using safe non-toxic beauty products. Research shows that what we put on our lips and on our skin is absorbed into the body. Vapour products are formulated with food-grade ingredients, meaning you can cook with them. So, they're safe for everyone – from teens to pregnant women to those undergoing cancer treatments."
As a result of her personal ordeal with cancer, Boinis named a shade of their popular Elixer Plumping Lip Gloss "Honor" in homage to breast cancer survivors and 100% of proceeds from the sales of HONOR are donated to benefit breast cancer research at the Cleveland Clinic Lerner Research Institute.
Well-being is central to the Vapour Organic Beauty brand, which also takes stewardship of the environment seriously. "We contribute to a sustainable loop of clean conscious manufacturing, the consumer's use of healthy non-toxic cosmetics, and the recycling of our components to begin the manufacturing cycle again. All packaging is recyclable. Product ingredients are biodegradable, and contain no nano-particles or toxic chemicals to pollute the Earth."
It takes a great team to build a dynamic brand and Boinis is grateful to her talented in-house Taos staff of 16 full and part-time employees that handle research and development, sales and marketing, production and order fulfillment, customer service, social media content creation and curation, accounting and regulatory issues. She adds that Bold PR in New York City has been instrumental in promoting their products to the media and getting them high-profile press.
"WESST's continued solid support over the years has also been invaluable to Vapour. WESST has given us unwavering support when other organizations didn't understand or believe in our vision. They've been a resource for capital and consulting." Loans from WESST enabled the purchase of equipment to help the company grow and SEO consulting helped guide the company's inbound marketing efforts. "I cannot express my gratitude to WESST enough," concludes Boinis.
Krysia Boinis, Kristine Keheley and Eric Sakas
"WESST has given us unwavering support when other organizations didn't understand or believe in our vision."
Krysias Boinis
Vapour Organic Beauty