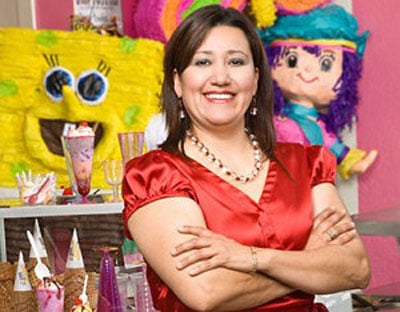 When Silvia Terrazas first came to this country, her driving entrepreneurial desire kept her focused while she tackled two major barriers: 1) She spoke only Spanish; and 2) Her son was born with one foot which required new prosthesis's as he grew. Regardless of the adversity she faced, Silvia's strength and tenacity were instrumental in helping meet business goals.
In 2000, Silvia, with her Employment Authorization Card in hand, came to WESST for a loan to open a video rental store. She had been a seasoned businesswoman in Mexico, so, she knew the industry. In New Mexico, however, she had to learn about business (taxes, codes, bookkeeping). She did her research, found a location (about 700 sq. ft. of space), and put together an inventory list of videos – "Mexican favorites" along with "Subtitled American New Releases" that she wanted to rent and sell. It was important to her to start small and grow slowly – to better insure her success. Her market niche was primarily the Spanish-speaking population.
Using her micro-loan from WESST, she opened a small shop and quickly became recognized as a "gutsy" businesswoman. How did she handle patrons who didn't return her videos or equipment? She went to their homes and demanded the items back. Her attitude was, "I paid for these things and they belong to me. If I let one person get away with stealing, they all will."
Over the next eleven years, Silva continued growing the business into two locations when she added a second business, La Michocana (well-known Mexican fruit concoctions). Her business grew to 13 employees and she incorporated. During those years, she obtained seven loans through WESST.
As the economy became more depressed, Silvia knew in order to survive she would have to make some drastic changes. In her northern location, she found another business to take over the lease and moved La Michocana into her main store. Then, she sold out most of her inventory for Video Exitos and moved the remaining into the La Michocana storefront as well. From this location she does very well selling Mexican candies, all of her ice cream and fruit drinks, piñatas, phone cards, and makes wire transfers. Next, she decreased staff to five with the hopes of hiring again as sales increase.
Silvia has proved through her business savvy that she will ensure this business survives hard times. She has completed her Citizen training and will be taking the test to become an American (something she has wanted for many years). Even though she complains that her English isn't very good, "My son says when I talk English it sounds like I'm talking Chinese," she actually does very well.
When he was about 11, Silvia brought her son into the business to teach him about business. He is now a senior in high school, tall (over 6 ft.), extremely good looking, and a basketball athlete. He is quick to answer business questions and is a great support to his mother. Her daughter, who is now nine years old, will be learning the business soon.
Silva believes her success is a result of her deep faith and she hopes is to be able to leave something of value for her children to continue.