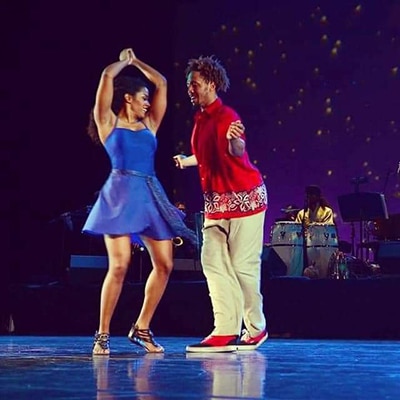 VIIIZON Academy LLC prides itself as the New Mexico epicenter for performing arts culture. They focus on a wholistic approach to training dancers, ensuring students are mentally, emotionally, and physically prepared to fulfill their unlimited potential. "Our goal is to build confidence, dedication, and elicit enthusiasm in the students." VIIIZON Academy offers a wide array of classes, including ballet, modern, hip-hop, jazz, African dance, acrobats, and yoga. They work with students to build a portfolio, film content, and resume to launch successful performing arts careers.
Vanessa and Trey met during their time as students through the University of New Mexico's dance department. "Being Black in a sea of white dancers made the few of us African American students in the dance department build an unbreakable bond of strength," says Trey. Many years later they would realize that if they wanted to see change in the dance world, they would have to be the change. They knew it was important to invest in starting a business to give indigenous people opportunities to be primary dancers. "It was just us who invested in starting the business." Yet, they give credit and acknowledgment to the amazing community support that motivated them for the journey.
After instructing in New Mexico's premier dance studios for well over a decade, this power couple was determined to open an Academy for the Arts, encompassing their shared values regarding dance production and performing arts. Vanessa Mathis and Trey Pickett created VIIIZON Academy LLC from their love for each other, community, and performance arts. VIIIZON LLC officially opened its doors in October 2019. "It wasn't until the pandemic left us basically jobless that we decided it was time to create our venture."
In business, challenges are so real! The largest obstacle they faced was simply finding affordable commercial real estate within the city of Albuquerque. With costs on the rise, finding a location was a huge obstacle, given their very tight budget they needed the dance studio to be practically turnkey. The next challenge was tackling the student enrollment needed to break even and to then become profitable.
Trey and Vanessa left no stone unturned in the search for a location. "We were fortunate to find our location, complete with mirrors and wood floors." They discovered that a positive reputation and consistency in the schedule set them apart from their competitors. Whether offering courses online during the height of the pandemic or in-person as COVID-19 cases began to decrease, consistency remained essential to their staff and students. "Without community, we couldn't have made it this far," said the couple upon reflection.
VIIIZON Academy LLC was only a dream in 2009 when Vanessa and Trey first arrived at WESST for IDA financial literacy training. The couple said they had no idea about how to establish or maintain credit back then. WESST taught them these skills. "We learned to work within our means and always keep true to our mission." They became laser-focused on their niche market and recognized that it's always okay to "let us get help where we've needed it." In 2022 when they needed further guidance individual consultations helped them dive deeper with business goals and build a more solid infrastructure. "We made our first steps towards having other employees. WESST helped us feel comfortable growing to a staff of 5 now."
"WESST provided us with the necessary skills to establish and build credit in the early years, helped us identify spending leaks early on, and taught us how to conserve our resources for future endeavors," Trey said. Vanessa echoes, "Hands down, I learned time management skills and managing money. We have nothing but gratitude for our business consultant Neema who helped us feel comfortable in our expansion of VIIIZON Academy LLC and providing us the opportunity to be podcast guests on "Minding Your Business." Thank you for promoting and sharing our achievements."
The community succeeds every day that VIIIZON Academy opens its doors. As one of the few young black entrepreneurs in New Mexico, they represent hope for people of color everywhere. Being in touch with themselves and creating their own cultural narrative embodies the pride their heritage teaches. VIIIZON Academy LLC is rooted in teaching self-love and healing to everyone who walks through the doors. As they say, "Movement belongs to the people; it's their stories that dance into existence." It's scientific that dance itself produces measurable mental health benefits. Providing studio space that teaches to dance in freedom and safe space to interact with other people is the success they feel every day. "It's about collective success." A recent VIIIZON Academy graduate auditioned and was featured for this year's 2022 Super Bowl halftime show! "We highlight our students, to uplift them and together we build success. Every time our students succeed our community celebrates with them."
It was a dream come true to open our doors in Albuquerque's Nob Hill. We are building on the shoulders of our Ancestors and every human that didn't have a right to the opportunities we have today. Trey Pickett proclaims, "We are the hope and the dream of every slave. Our dance is freedom." Vanessa puts it this way "Every day that we show up to our building and turn the key it's exciting and humbling. It's amazing to see people having a great time. My people, black people, being celebrated from years of dedication to our dance." They love seeing kids of every nation move together and their desire as young people to pave the way and to chase their dreams. "It's seeing the next generations having it easier than we had it starting out." Big dreaming is what they share with daughters ZayLee and Ameera. "Not only do we realize our dreams, but we build the communities' collective dreams."
Trey Pickett and Vanessa Mathis
"WESST provided us with the necessary skills to establish and build credit in the early years. To make us identify spending leaks early on and how to conserve our resources for future endeavors."
Trey Pickett and Vanessa Mathis
Albuquerque, NM