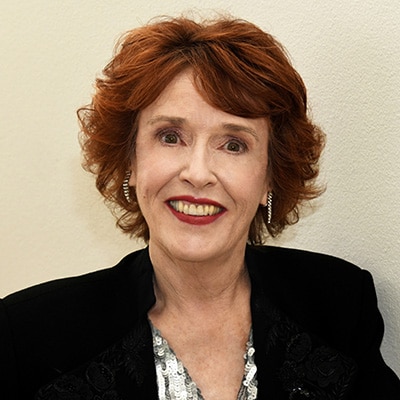 Voice Power Studios (VPS)
Sandy is a leading international expert in the art of the speaking voice.  Voice Power Studios (VPS) work has been featured in the Wall Street Journal, Houston Chronicle, Los Angeles Times, New York Times and other publications. She's an international keynote speaker, private voice and speech coach. Over the past five years she's developed a popular accent reduction online training program.
In the late 80s it became clear that her advancing age was an issue in landing jobs in Hollywood and New York so she started teaching voice and diction to actors and business leaders.  At that time, very few people offered the skills she provided, and business grew strong. 
Over time Sandy realized that she wanted more open space with a place to grow a garden and appreciate the outdoors with fresh air and expansive vistas. She moved to Santa Fe in the late 90's.  Today, Sandy's clients are worldwide and include leaders like Intel, Genentech, Nestle, Northrup Grumman, Microsoft, EDS, US Coast Guard, British Petroleum in Shanghai and the Navajo and Apache Nations – to name a few. Generally, she conducts interactive workshops on sites around the world or works one-on-one with key corporate executives, entrepreneurs, business owners and sales professionals who want to learn how to use their voices to advance their lives.
Sandy's always been self-motivated and has a knack for recreating herself. WESST has been instrumental in guiding and encouraging her ongoing evolution.  After years of being in show business, business skills were not a strength Sandy possessed.  She made an appointment with Bette at WESST's office in Santa Fe; Bette was helping women develop the skills to transition into entrepreneurship.  Bette helped Sandy focus and helped her learn skills to move forward and gain confidence as a businesswoman and not just a showbusiness person whose life was managed by others.  Sandy is still learning, but she has the confidence to evaluate and make sound decisions based on solid information.
Bette and Sandy have developed a solid working relationship based on trust.  To this day, Bette and Sandy frequently meet to discuss strategies and new business development opportunities. Sandy has taught voice classes at WESST as well as Santa Fe Community College. If Sandy has business-related issues, they discuss and develop a plan to move things forward. Specifically, some benefits of working with WESST include website design, marketing, developing a fee structure and more.
Sandy's Voice Power Studios business has experienced controlled growth.  She now employs several people on a part-time basis for things like web development, administrative tasks and video production.
Sandy believes that when you have command of your voice, you have command of your profession; she loves sharing those commanding skills with others.  She has taught classes at Santa Fe Community College and had a radio program called "Sounds of Success," which entailed interviewing successful businesspeople and discussing how important their voice is in their businesses and professions. She created a workshop called "The Theatre of Life" in which Intel folks and others participated in learning new and improved skills and thinking more creatively.  Sandy has given voice workshops at the Georgia O'Keeffe Museum for youth through their Education and Leadership programs, provided customer service training for state and local governments, and trained local high school radio hosts. She is very committed to being involved with the community.
Sandy continues teaching Executive Speaking skills on an individual basis all over the world.  She's considering writing a book about how people use their voice to set themselves free. She is converting her live one-woman show, "The Magic of Happiness" into a virtual reality Podcast. She's fortunate to have boundless energy, and being a self-starter with a love for creating.
Voice Power Studios (VPS)
"I give full credit to Bette Bradbury for helping me make the transition from being an actress in show business and having agents and managers do all the business side of life to learning how to create and manage a viable business"
Sandy McKnight
Voice Power Studios (VPS)