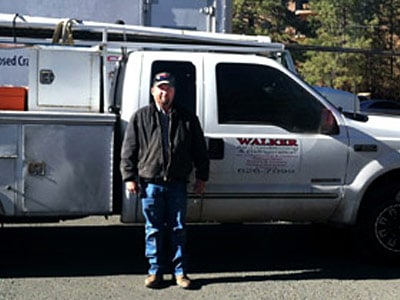 Walker Air Refrigeration and Service
After getting his degree in air conditioning and refrigeration service and units, Shane Walker decided to go on his own and start his own company rather than work for someone else.
Walker Air Refrigeration and Service was born. It wasn't long before Mr. Walker realized that he needed business advice to manage and grow his business. A business associate recommended he visit WESST.
With business papers and a long list of questions in hand, Mr. Walker came to WESST. He had intended to just ask for advice on how to start and manage his business, but he quickly became one of the WESST client family who seeks business guidance on an ongoing basis.
As a direct result of WESST's assistance, all of Mr. Walker's business questions were answered and he was given the ability to manage and handle his own revenue and expenses. Mr. Walker gained owner and manager comfort from his connection with WESST and in the knowledge that WESST was there for him.
That was in 2007. Since then, Mr. Walker has seen his sales increase from just under $100,000 to over $355,000 in 2011. He has grown from just himself to four additional employees working year around for the entire Southeast New Mexico region.
Through the years, Mr. Walker still utilizes WESST for his quarterly and annual sales and revenue review. WESST also assisted Mr. Walker on two occasions to identify access to capital in excess of $70,000. As a result, Mr. Walked was able to expand his business.
Walker Air Refrigeration and Service