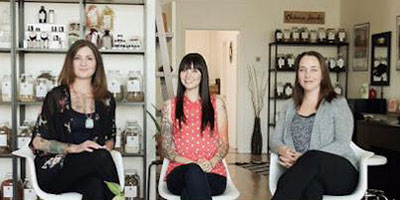 Dr. Lisabeth Detwiler, DOM, is the owner of Zentral Wellness, a Chinese medicine dermatology clinic.  The business offers acupuncture, Chinese herbs, massage therapy and beauty services.  Their goal is not only to offer remedies for skin problems, but they also assist individuals in managing stress, pain and various other health concerns from allergies, fertility to weight loss.  Lisa utilizes many alternative medicine modalities (including acupuncture, herbs, nutritional counseling, tuina massage, cupping, and moxabustion to name a few) to help patients reach their health goals and live healthier and happier lives. 
Having seen family members and friend's battle skin conditions and the limited options available to them, Lisa decided to specialize in Chinese medicine dermatology in her senior year of obtaining her Masters.  Lisa received her Masters of Science in Oriental Medicine from Southwest Acupuncture College in Albuquerque, NM.  She is a nationally board certified Diplomat of Oriental Medicine (NCCAOM) and a New Mexico state licensed Doctor of Oriental Medicine.  During the summer of 2013, Lisa completed an externship at Heilongjiang University of Chinese Medicine in Harbin, China, and continues to be committed to the lifelong study of complementary and alternative medicine. 
After graduating as a Doctor of Oriental Medicine, Lisa rented space at one location while maintaining a part time job at another facility.  After 10 months of practicing her combination of acupuncture with herbs for two separate businesses, Lisa decided to open her own practice.  Lisa was confident that her unique specialty, coupled with her vision for branding and marketing, would give her business a unique advantage over other acupuncture facilities in Albuquerque.
Lisa's work with WESST began by completing a loan request and working with the loan department to review her business plan and generate a thorough cash flow projection as part of the loan approval process.   After her loan was approved, WESST continues to do site visits to provide ongoing business support.
Lisa's biggest challenge has been in juggling between being a new business owner and being a new practitioner.  Oriental medicine requires a lifetime of study.  After graduating, Lisa needed to continue spending time developing her skills and knowledge in order to maintain successful clinical outcomes.  Shortly after starting her business, she found herself spending more time as a new business owner and less time as a scholar/doctor in her practice. 
Lisa began utilizing business resources in the community.  In addition, she learned to delegate some of her workload to others.  The modifications made to how she was originally handling her business have allowed her to strike a more sustainable balance.
 "Starting a business is probably the scariest thing I've ever done, but knowing that WESST would be there to support me gave me the confidence I needed to take the plunge!  The funding and support that WESST provided me made my dream a reality!"
Dr. Lisabeth Detwiler, DOM
"Knowing that WESST would be there to support me gave me the confidence I needed to take the plunge!"
Dr. Lisabeth Detwiler
Zentral Wellness