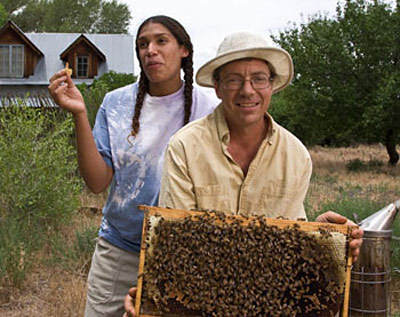 Entrepreneur Melanie Kirby thoroughly enjoys her life as an entreprenuer. Each day offers new and challenging opportunities to be creative, learn new things, solve problems, and oftentimes — being the mother of two children under five — feel as though there are not nearly enough hours in a day.
Melanie is the founder of Zia Queenbee Company, a growing business that is challenged on a daily basis to meet the huge demands of the important Queen Bee marketplace. Because of the high quality of Melanie's Queen Bees, demand exceeds her ability to deliver. In addition to maintaining a business built upon high quality, she must also train new beekeepers to meet the expectations of her growing clientel.
Melanie has committed 15 years to educating herself and others interested in learning about beekeeping as a hobby or business. Her education began as a Peace Corps volunteer offering Beekeeping Extension Services throughout the world. Upon returning to the states, Melanie learned additional, more advanced skills in beekeping: she studied queen grafting and rearing in Hawaii, then nucleus plus package bee production in Florida.
Now residing in the small northern New Mexico village of Truchas, Melanie is busy balancing field work with mother-duties and office tasks with her partner, Mark Spitzig and his sister's enterprise, Superior Honey Farms. They have added another employee and are part of the Southwest Survivor Queenbee Project, which was funded by Western SARE (Sustainable Agriculture Research & Education).
From hosting workshops focused on educating those who are interested in learning to keep bees to developing queen rearing practices, exquisite honeybee products and community services, Melanie continues to grow her entrepreneurial skills by attending workshops held by WESST to address such topics as pricing and marketing.
Today, Zia Queenbees and Superior Honey Farms are reliable resources that supply hearty Queenbees to the North Central Great Lakes region, the Rocky Mountains and the Greater American Southwest while being dedicated to promoting local agriculture and markets by breeding regional Queenbees.
Melanie Kirby and Mark Spitzig