Announcing more new HOPE Loans!
By Katie Knipe | August 20, 2021
WESST launched the HOPE Fund (Helping Open Possibilities for Everyone) in 2020, a "no barriers to accessing capital" approach for people of color and low-wealth New Mexicans. We're proud to announce our second and third HOPE Loans, with several more on the way!
Jordan Tate has had a very exciting past few months. He became a father, he had his biggest month in sales ($3,900 April '21), and in May he received $5,000 in interest-free loan funds from WESST to purchase drone equipment that will take his business – Creative Duke Media – to the next level.
Jordan first approached WESST in July 2019 when he had an idea to start a business. WESST guided Jordan through paperwork, taxes, and operations. Once his business came to life, through ongoing coaching with WESST, Jordan identified a need for capital. We connected him with WESST's loan department to explore the possibility of a HOPE Loan.
The HOPE Loan helped Jordan overcome credit, income, and collateral issues that would have likely resulted in denial from traditional lenders. He said he already has clients asking to book services that the new drone will enable him to offer. Jordan is excited to continue consulting with WESST and participating in our training opportunities as his business flourishes.
Our third HOPE Loan recipient, Karen Allyson Hayes, began meeting with WESST in July 2020 when she inquired about credit counseling. Her credit reflected the financial hardships many of our clients faced as a result of the pandemic. WESST's coaching and advice empowered Allyson to repair her credit and improve her financial situation.
With her credit improved, WESST helped Allyson complete her cash flow statement so she could apply for a loan. Allyson's jewelry business – Precious Elements Designs – was severely impacted by the pandemic and the spike in silver prices last year. She began to pivot to create jewelry using non-precious metals like steel, brass, and copper and made the courageous decision to return to school at NMSU, where she recently graduated with her Bachelor's in metalwork with a minor in marketing. Allyson will use the HOPE Loan funds to secure some equipment to help her pivot her business and pay for a website to offer her products online!
Through the HOPE Fund, WESST clients like Jordan and Allyson are gaining so much more than just a check. WESST provides invaluable learning opportunities through the loan application process and ongoing support to help diverse small business owners continue down the path of success.
We appreciate the organizations and individuals who have supported the HOPE Loan Fund. We are particularly grateful for the grant support we received from Wells Fargo's Open for Business Fund. Thank you for helping us open possibilities for anyone who wants to start their own business!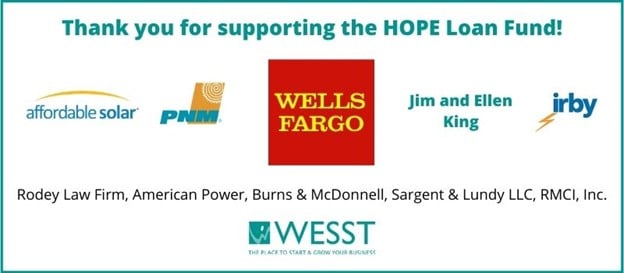 Katie Knipe
Katie Knipe is the VP of Development for WESST and has worked in nonprofit management and arts administration for the past decade. She has dedicated her career to fundraising for organizations whose missions fuel her fire, including those who promote classical music performance and who serve people experiencing homelessness.