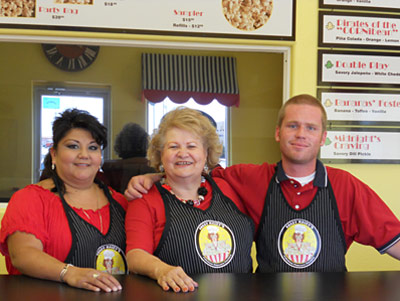 Crazy Maizy's Fabulous Popcorn Factory
Marilyn Mayse has been a huge supporter of WESST for over 15 years. Last year, she approached Jennifer Craig, WESST's Regional Manager in Las Cruces, as a client with the idea of opening a gourmet popcorn storefront, offering an array of sweet and savory popcorn. Mayse was introduced to gourmet popcorn coincidentally at a high school sporting event. The concept intrigued her because she envisioned endless possibilities in flavors and combinations.
She selected a storefront and worked with the owner to renovate the space to accommodate her needs and décor – which includes striped black and white interior awnings, colorful displays, built-in counters, and an inviting environment for customers.
Much to her dismay, opening the business became a nightmare. Her planned opening of October 2010 was delayed time and time again. Besides her dealing with contractor problems, Marilyn faced a list of building code and healthy and safety issues with the city of Las Cruces, the Health Department and the Fire Marshall.
Her tiny location was required to have vents, hoods (even though she was not cooking), special lighting, and the list kept increasing. A lesser person would have given up, but Marilyn stood her ground and complied on every level.
After months of struggling to equip her shop with product, equipment, and staff, Crazy Maizy's Fabulous Popcorn Factory opened in June of 2011. Her plans for the business include fund raisers where schools, ball teams, and other groups can sell her popcorn to raise money for their causes; online sales; and participation in huge events (like cancer awareness, rape crisis, parade of homes, the county fair, business conferences, and trade shows).
Crazy Maizy's Fabulous Popcorn Factory currently offers more than 50 flavors of gourmet popcorn (manufactured and packaged in her Las Cruces kitchen and factory). Her creative menu includes unique blends like Banana Split (Chocolate, Vanilla, Strawberry, Banana); Tropical Dreams (Mango, Pineapple, and Coconut); Harry "POP"per (Sour Cream & Chives); All American 'POP'ular Vote (Red Cherry, Vanilla and Blueberry); and local favorite, Little G's Caramel Queen with Red Chile, created from caramel popcorn and world famous Hatch red chile.
WESST referred Mayse to a graphic designer (Maria Cristina, another WESST client) who created her logo and has signed a contract with her to receive compensation each time a franchise is sold (Marilyn's idea). A patent and trademark attorney, referred to Mayse by WESST, is helping her trademark her logo. WESST continues to provide business consulting and marketing assistance to Mayse to help her promote her business.
Mayse's story exemplifies the difficulties many small businesses face trying to open a business. Had it not been for the fact that Marilyn is the queen of networking (member of the Realtor's and Home Builder's Associations, as well as a board member of other organizations) and used to overcoming obstacles, she might still be struggling to open the business.
Instead, Marilyn contacted every resource available to ensure she was in compliance and to assist her in moving forward. Then, she patiently waited and made changes as needed. Many of our other clients have given up because the demands have been too fierce.
Her hard work recently paid off in a big way with an invitation to feature her gourmet popcorn in the official gift bags at the 33rd Annual Sports Emmy Awards, held on April 30, 2012 in New York City.
The Emmy's prestigious gift-bags, designed and distributed by Off the Wall Gifts in Bedford, New Hampshire, were presented to 800 attendees, families, and friends at the awards ceremony at Lincoln Center. Only 30 businesses were selected nationwide to be highlighted in the already-famous bags.
Kudos to Marilyn for her fortitude and success! WESST is looking forward to helping her small business grow in POP-ularity (sorry, we couldn't resist that pun) and revenues.
Crazy Maizy's Fabulous Popcorn Factory