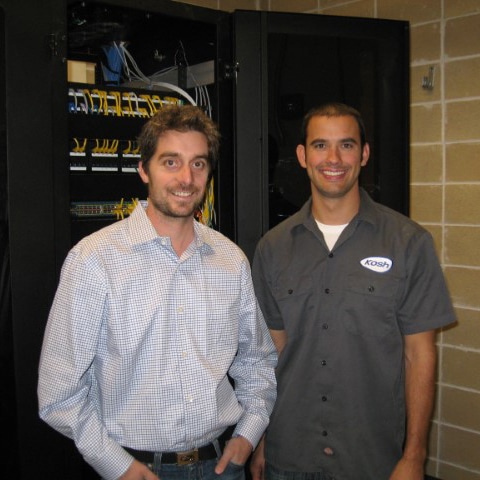 Kosh Solutions was founded as a home-based business in 2005 by Koert Council and Joshua Fristoe to provide quality computer and IT consulting service to an under-served market in Las Cruces, New Mexico. After six months of providing IT support on an hourly basis, Kosh moved out of their living room and into a Las Cruces commercial building. During this same period, Kosh principals achieved Certified Systems Engineering status with Microsoft Networks.   During the ensuing two years, the company realized an average growth rate of about 30%.
In 2008, Kosh wanted to expand into the Albuquerque market and became a WESST client. The company became WESST's first incubator tenant when the WESST Enterprise Center opened for business in January, 2009.   To expand cloud services and acquire products for a large project, Kosh subsequently received 2 loans from WESST.   The company continued to grow and eventually expanded into the Four Corners market. It also acquired PCS Technologies in the fall of 2012. With this acquisition, Kosh Solutions added a point of sale division to the company.  
As a WESST incubator tenant, Kosh received numerous business support services, coaching and access to capital.   The WESST team helped Kosh to put operational polices in place to better manage accounts receivable, human resources, customer service, and accounting. Kosh attributes much of its growth and success to WESST's business incubation program.   Reflective of its success, Kosh was recognized by Albuquerque Business First as one of the fastest growing companies in New Mexico in 2014 and 2015 with a revenue growth of 120.17%. The company currently has 26 employees with offices in Albuquerque, Las Cruces, and Durango, Colorado.
Koert Council and Joshua Fristoe
"The WESST Enterprise Center provided a great space for Kosh to continue to grow. The loan fund helped us get the capital we needed to add new streams of revenue and become more profitable"
Koert Council and Joshua Fristoe
Kosh Solutions