Staff Spotlight: Adriana Martinez Guzman
By Lorena Schott | January 19, 2022
Adriana joined the WESST team in September 2021. We are happy to have her as part of the WESST family and hope you enjoy learning a little more about her.
What made you want to come to work for WESST?
WESST's genuine commitment to serving their community and passion for helping New Mexicans start and grow their business. WESST is filled with amazing and knowledgeable employees who are deeply and genuinely passionate about the work they do. Their culture is supportive, unique and fosters not only their client's growth, but also their employees'.
What was your very first job?
My first job was working at my school's store where we would sell snacks to other students during lunch time. I was part of the entrepreneurial path at Capital High School in Santa Fe and part of our learning included knowing how to run a store.  It was a lot of fun and I got to learn the basics about cash management, customer service, inventory and much more.
What's your favorite part of working here?
My favorite part of working here is getting to work alongside knowledgeable and caring individuals, while doing what I love. It is important for me to serve my community and work towards breaking down barriers by increasing access to resources and education leading to the building of wealth for themselves and future generations.
What do you do when you're not working?
When I am not at work, I like to spend my time doing yoga, going bike riding down the bosque, dancing, camping…pretty much anything outdoors. I also value spending my time with the people I love. Though I like being active, I also do my fair share of Netflix binge-watching.
What do you wish people knew about WESST?
That our staff cares about their clients and will do their best to help you develop your business. We recognize the courage, strength, and passion our clients have. Our goal is to walk alongside and help guide you while you embark on this exciting and challenging journey.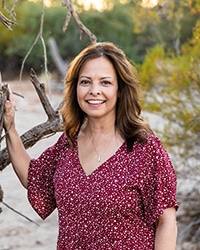 Lorena Schott
Lorena Schott is a native New Mexican that brings a wealth of experience to the WESST team. Before joining WESST in 2009, she worked for Intel where she was acknowledged for her establishment of Intel's centralized on-line system, rewarding and recognizing employees worldwide.