Orange Shirt Day – A Time For Healing, A Time To Share Knowledge
By Holly Patterson, Regional Business Consultant and Trainer, WESST Farmington Women's Business Center | September 30, 2021
Orange Shirt Day (which is also known as the National Day of Truth and Reconciliation)
September 30th is a day to honor the Indigenous children who were forcibly taken away from their families through the Residential "School" system. It is a day to raise awareness about the struggles that indigenous communities have faced and the violence and intergenerational impacts Indigenous communities face to this day.
This is a day to recognize the indigenous children taken from their communities and families, honor those who survived, and honor the families and communities affected.
Orange Shirt Day was started by an incredible Indigenous woman, Phyllis Webstad, from Stswecem'c Xgat'tem First Nation. At the age of 6, she was taken away from her family and community and forced into St. Joseph's Mission Residential "School." Her grandma bought her an orange shirt for her on her first day. After arriving at the residential school, her belongings and clothes were taken away from her, including her Orange Shirt. This day is titled Orange Shirt Day due to the remembrance of experiences she and other Indigenous children went through.
On this day, it is important to not only show your support by wearing an orange t-shirt or article of clothing but also continue to practice allyship and educate others around you.
Summary
We want to participate and acknowledge this day at an organizational level to continue to raise awareness around the barriers and strives the Indigenous communities we work with, learn from, and come together with as a community has gone through. As a non-profit organization with the mission of serving New Mexican communities, women, people of color, and Indigenous people, this is one of the steps we are taking to be a part of this remembrance as allies in solidarity.
To also encourage positive trends, WESST offers support, training and resources that enable Indigenous entrepreneurs to build and expand their businesses.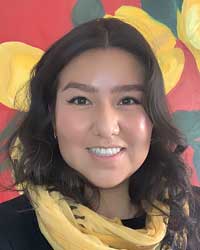 Holly Patterson, Regional Business Consultant and Trainer, WESST Farmington Women's Business Center
Holly Patterson was born and raised in the Four Corners area of New Mexico. Holly joined WESST in the fall of 2020. She received her B.A. in Anthropology from Dartmouth College in 2019. Throughout college she developed and co-managed various social media platforms for multiple campus organizations and Dartmouth's NCAA Division 1 Women's Basketball Team. Holly was selected twice for the College Board's New York Summer Internship Program that resulted in the first publication of an educational guidebook focused on college-preparation for Native American high school students. She also aided in the coordination of a national grant program for educators. Holly is very passionate about education, marketing, and administrative work that focuses on shorting the disparities between marginalized communities/individuals and their opportunities. She looks forward to sharing her abilities with individuals to help them achieve their success.